Breaking News! SNK Playmore Announces A New Neo Geo Handheld
It looks like Sony and Nintendo might have some new competition in the handheld market! In a rather shocking announcement SNK Playmore, the makers of the original Neo Geo systems, have decided to release what seems to be a Neo Geo Pocket 2! For those of you that don't know, the Neo Geo Pocket was a handheld that was released by SNK in 1998. Although the handheld wasn't that popular, a successor, the Neo Geo Pocket Color, was released in 1999. Sadly enough, Nintendo's Gameboy systems had already been welcomed into the hearts of many, and thus the Neo Geo Pocket Color never sold more than 2 million copies in its two-year lifespan.
Now it looks like SNK might want to try their hands at the handheld market once more with this new Neo Geo device! The Neo Geo (might not be the final name), sports a design that highly resembles an iPhone, this could be to compete with the ever-growing cellphone gaming market that is currently threatening dedicated handheld gaming devices.


Located on the top of the device are L1, L2, R1, and R2 buttons, an AV out jack, and what looks to be the port where your charging cable connects to. On the button of the device you have your  volume and brightness buttons, as well as an audio output jack for headphones.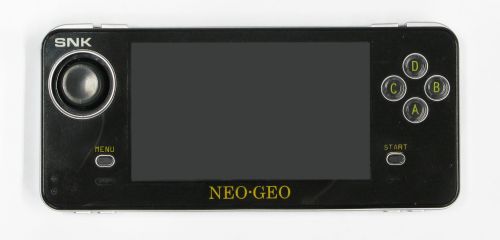 Sticking with the Neo Geo handheld design, this new portable brings back the familiar analogue stick that fans of the SNK handheld have come to know and love. Opposite the analogue stick is are your A, B, C, and D face buttons. Located between the analogue stick and face buttons is a rather nice 4.3-inch screen.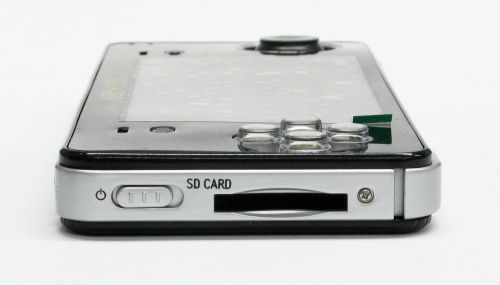 Finally, on the right side of the device is an SD card slot (just incase the 2GB of internal storage aren't enough for your needs), and the power switch. The Neo Geo comes pre-loaded with North American versions of 20 classic Neo Geo games:
World Heroes
Ultimete 11
Top Player's Golf
Sengoku
Nam-1975
Mutation Nation
Last Resort
King of Monsters
Frenzy
Cyber Lip
Fatal Fury Special
Art of Fighting
Super Sidekicks
League Bowling
Metal Slug
Magical Lord
Baseball Stars Professional
Samurai Shodown
King of Fighters '94
Fatal Fury
So far this is looking to be a great device, and if it bombs again, at least we'll have a nice updated handheld that can should be able to run emulators on it's 4.3-inch screen pretty well. SNK did not state the release date, pricing, maker, or ordering information for the Neo Geo. For more information about this device, visit
FamiCom-Plaza's
report.
25 January 2012 Jessey Gaming Mobile Gaming Color, Fatal Fury, Geo, Heroes, King of Fighters '94, Metal Slug, Neo, Neo Geo, Pocket, Samurai Shodown, Sengoku, SNK Playmore, Top Player's Golf, Ultimate 11, World